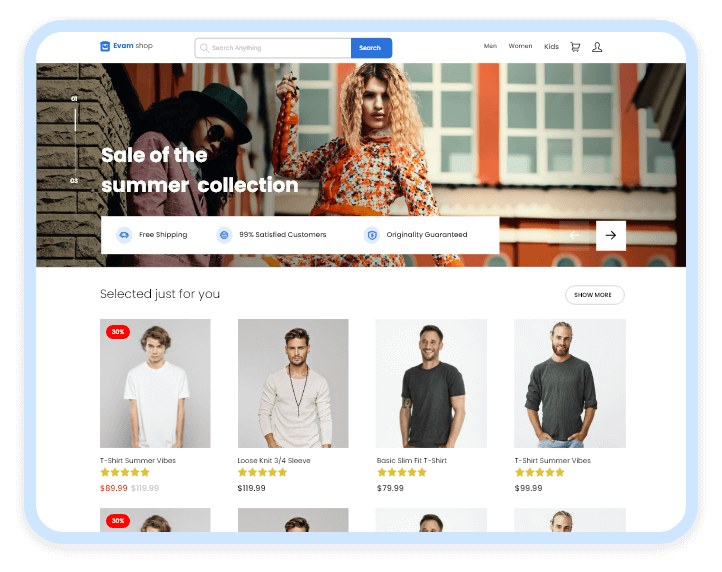 Top Mobile App Development Company,
Accredited By
Top AI-powered eCommerce Web Development Company
Want to automate your eCommerce sales processes? Get in touch with us.
Whether you want to integrate ChatGPT for predictive analysis or use AI and ML algorithms for personalized product recommendations, our team of eCommerce developers builds high-end solutions that result in a high conversion rate.
Since we have already developed a ChatGPT-like solution for the eCommerce industry, our eCommerce developers have the skills to integrate features like in-app chat, purchasing recommendations, and site-search functions. Additionally, we have recently integrated ChatGPT into the eComChat solutions to improve the website's search functionality.
Bring your idea to us. Let us help you to build an AI-powered eCommerce website platform using OpenAI's API and machine learning algorithms.
Talk to Our Experts Now
Validate your app idea with the field expert and clear all your doubts.
How We Use AI to Develop eCommerce Websites
eCommerce Development Consulting
If you want to develop AI-based eCommerce solutions and need a strategy to make them successful, contact us. From analyzing the feasibility of your eCommerce software to selecting the right technology, we guide you to optimize your eCommerce online store. Discuss your project with us and get a roadmap, cost, and timeline to build your online store.
UI/UX eCommerce Web Design
Want to make sure that your online store is easy to navigate and optimized for conversions? With our expertise, ensure that your website provides a seamless shopping experience for your customers, from product discovery to checkout. So, if you want to create a user-centric eCommerce website design with the latest design trends, connect with us.
eCommerce Website Development
Looking to develop custom eCommerce website solutions? We have a team of eCommerce developers who can build your online presence using OpenAI, ML, and deep learning algorithms. From personalized product recommendations to advanced customer service chatbots like ChatGPT, we create a seamless shopping experience for your customers while driving revenue for your business.
OpenAI-powered Chatbot Development
You don't need a large customer support team to manage your eCommerce businesses. Help your customers to resolve their queries and questions with a custom chatbot. The best part? This chatbot is available 24/7. We have a team of skilled ChatGPT developers, who have expertise in designing and developing custom ChatGPT-enabled bots.
OpenAI API Integration
Automate and streamline your workflows with the use of OpenAI's API. Our AI developers have the skills to incorporate advanced capabilities like predictive analytics, site search algorithm optimization, and integrating chatbots into your eCommerce solution. So, drive growth and increase profitability by integrating OpenAI's API.
Hire eCommerce Developers
Looking to build a top-notch eCommerce website using AI? Our team of eCommerce developers can help. Hire our experienced developers in just 24 hours and start building your revenue-generating online stores today. Whether you need a full-stack development team or individual developers, we have a pool of resources to build your AI-powered eCommerce store.
Want to Build Your AI-powered eCommerce Website?
Let's talk. Our senior eCommerce consultant validates your idea and defines a roadmap to develop your custom eCommerce solution using AI technology.
Explore Our Project
eComChat is a ChatGPT-enabled eCommerce search bot. eComchat understands the intent behind customer queries, identifies relevant products, and delivers tailored results in real-time. The solution provides customers with an accurate search experience that drives conversions and boosts revenue.

We have used NLP to provide a better user experience and increase customer engagement on the eCommerce platform. Additionally, we have used 20K eCommerce product data to train the model and OpenAI library to understand the user's query.

Key Highlights of eComChat

Increased revenue by 23%
No more zero search results queries
Provides specific pricing from real-time inventory
Reduces operational costs

Pearson Dental Supply App is an eCommerce platform for dental equipment in the US region. This app solution enables you to search over 130K dental equipment & products. You can even scan the barcode and retrieve product information and buy it online.

This platform is integrated with the FaceID login (camera detects your face) and Touch ID login to ensure a safe and secure login to the app. Our team designed a user-friendly interface that makes it easy for customers to find the products they need and complete their purchases.

Key Highlights of Pearson Dental Supply

Suggests the list of products that matches the search term
Enables to scan a product barcode like name, prices, brand, and manufacturing details
Optimized for mobile devices to shop from anywhere, on any device

Sahanbooks is one of the leading online eCommerce sites, a kind of Amazon clone, that offers online book delivery and pick-up service to the residents of Hargeisa, Somaliland. It offers varieties of books from different genres, such as fiction, nonfiction, classics, and educational.

We have made it easy for you to search your favorite books by authors and book names, or ISBN – International Standard Book Number. Like Amazon, we have also integrated a filter option to make searching more convenient for you. Now, check the top features of Sahanbooks.

Key Highlights of Sahanbooks

Search favorite books from the online book store
Add to cart and make payment processing online safely
Provides pick-up services from Sahanbooks
Return purchased books if received a damaged or wrong book
Our Developed Solutions Have Been Featured In
Looking to Hire Dedicated Developers for Your eCommerce Project?
Share your requirements with us. We offer different hiring models that can help you to select the best eCommerce app developers as per your requirements.
Technologies We Use

Python

PHP

JavaScript

HTML

CSS

Django

Flask

Express.js

React

MySQL

MongoDB

PostgreSQL

Redis

TensorFlow

PyTorch

GPT-3

Codex

DALL-E

Stripe

PayPal

Authorize.net
Why Choose Space-O for eCommerce Development
98%
Success Score on Upwork
20+
eCommerce Solutions Developed
1000+
Jobs Completed on Upwork
55+
Unique Feature Implemented
100+
Small and Large Innovation
15+
eCommerce App Developers
30M+
App Downloads
13+
Years of Experience
1200+
Clients Worldwide
Our eCommerce Web Development Process
01
Book Your Consultation
Fill up the contact us form to discuss your eCommerce web development idea. When you book a consultation with us, one of our experienced eCommerce consultants gets in touch with you. Within a maximum of 24-48 working hours, we get back to you for discussing your business requirements.
02
Requirements Gathering
We analyze and understand your requirements regarding AI integration and what problems you want to solve. We recommend the technical experience, and the number of developers needed and provide the approximate cost, and the timeline for your eCommerce project.
03
AI Integration
Depending on your requirements, we code the features and functionalities of your online store. Whether you want to advance your search functionality, create a custom chatbot like Chat-GPT3 using OpenAI, we develop custom AI-powered solutions as per your requirements.
04
Testing of Your Website
Our QA team prepares a detailed testing plan including testing strategy, test cases, testing requirements, and a testing process. If any bugs or changes are found, your eCommerce website or chatbot integration is sent to developers for making fixes. Once your online store is 100% bug-free, it becomes ready for deployment.
05
Deployment of Your Project
After successful testing, our software developers deploy your eCommerce website on web servers. Whether you want to deploy your eCommerce website on the cloud servers or on-premises, we deploy it and perform testing to know if your eCommerce website is working perfectly on the web servers.
06
Maintenance and Support
We offer 90 days of post-development service. Our maintenance services include monitoring your website, fixing bugs or issues, and updating your eCommerce site according to requirements. If you face any issues regarding performance or functionality, we update your website and resolve your queries immediately.
Appreciation from Clients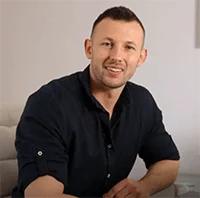 Steve
USA
I would like to thank the entire Space-O team for helping us with our photo editing app. We have been working with other developing teams before, and we were able to find Space-O. And all the other developers failed to deliver all great working apps for us. Space-O helped to design the app in a very user-friendly way. They helped us to navigate solutions for the app. And overall went above and beyond with our request.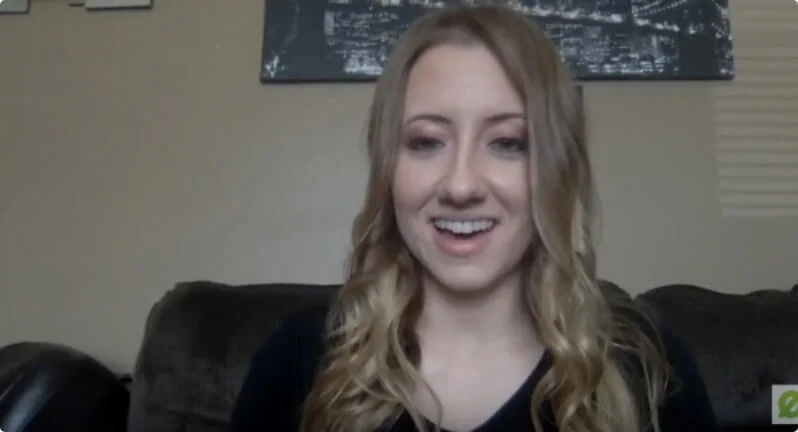 Olivia Grande
USA
This was the first app I've ever developed and they been extremely helpful every step of the way, answering questions, writing recommendations, and tips. If you're looking for a high-quality app, definitely go with Space-O technologies.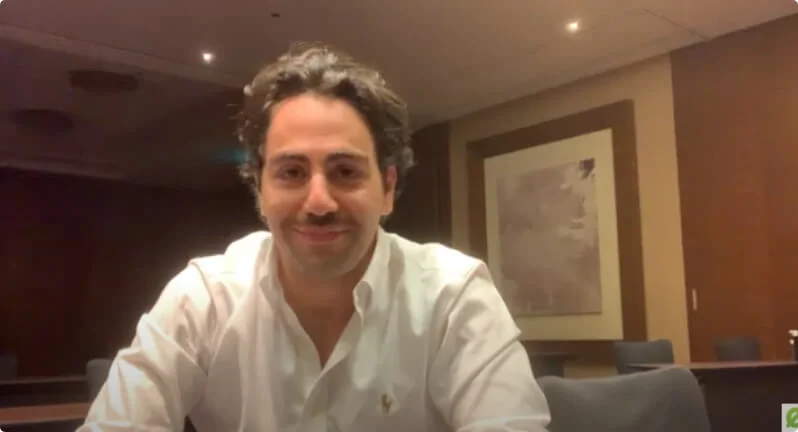 Kaveh
UK
When we started 2 years ago, the main struggle was to find the right developing team, because the problem was we were all quite demanding in terms of quality. And, this showed that we were able to develop some successful apps. But, this would not have been possible without Space-O.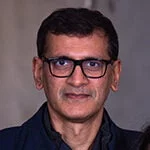 Aamir Jaffar
Kingdom of Saudi Arabia
I hired them for a BA assignment for a project. They did a fantastic job. Quite professional and also good at making the customer understand non technical aspects. Put their mind to think like the customer. A guy named Jaimin was assigned as the work lead and really appreciate his knowledge, understanding customer perspective on the assignment and come up with very valid suggestions. Recommended for mobile app development.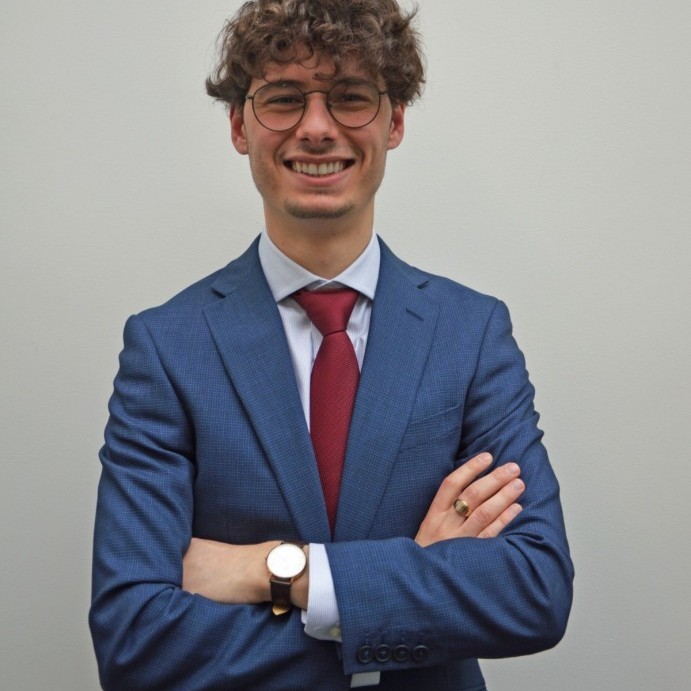 Riccardo Petrachi
United Kingdom
We searched online for app developers that had an extensive experience in mobile app development as well as a strong presence in the market. We chose Space-O specifically because of the up-close experience we had with another app they had developed and we wanted to achieve the same high level of standards, quality, and satisfaction. We were looking for brilliant experts and we found them.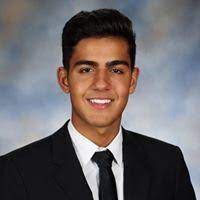 Ashton Asherian
USA
Space-O Technologies showed genuine interest in the project. The efficient team delivered quality results at a cost-effective price. We wanted to develop a minimum viable product that would be ready for scalability. It was a great experience working with them. We are so happy that we had the chance to meet Space-O. We love their work. Their project management and structure were amazing. The team loved what they were doing. There was passion behind every single piece of work.

Tom Asare
Ghana
The app was successfully launched and fulfilled original expectations. The Space-O Technologies team was communicative and effective in completing the project. The app is available in the Google Play store, and we're thrilled with the final product. They were a highly efficient team to work with. They were strong communicators—whenever I had an issue they were available. Additionally, they were timely in getting deliverables to us.

Nick Power
Australia
Eugene, Vlad, Jigar and their respective teams have been fantastic on all the various apps they have worked on and developed for us over the past 18 months. They are always proactive, responsive to questions and consistently provide top quality development and design work. The use of Skype, email and their own project management tool also makes it easy to keep track on how a project is progressing. I would highly recommend Space-O Technologies for any iOS development or design.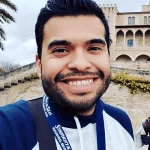 Mark
USA
I can't say enough about how great of a partner Space-O has been to work with over the past year. They were always pushing the project forward and ensuring quality checks at every turn, even pieces of my app that I should have caught before sending to development. Will definitely be referring any clients of mine to Space-O and will have them first on my list of partners to work with.
FAQ About AI-powered eCommerce Website Development
What can I expect from a free consultation call?
From a free consultation call, you can expect
Complete roadmap of your eCommerce project development
Estimation of the timeline and cost of your eCommerce website
Brainstorming sessions on your requirements and idea validation
Do you sign an NDA before starting a project?
Yes, we sign an NDA before we begin any project that is associated with Space-O Technologies to give assurance to our clients. Being a leading custom eCommerce development company, we ensure that every idea of our client is protected along with crucial business information. To ensure this, we also take proper security measurements, such as general security, network security, and operational security.
Do you allocate a project manager throughout the development process?
Yes. We allocate a dedicated project manager for each project to ensure that the project is streamlined to offer the best eCommerce website development services. In fact, the project manager will be your first point of contact if you want to contact the team to change/update anything.
Which communication channel do you use to update the status or progress of a project?
We use Basecamp, Skype, JIRA, and Slack to update the progress of the projects. We are also open to using other communication tools if it matches our conditions.
How much time does it take to develop eCommerce websites?
The custom eCommerce website development might take 300 – 360 hours (excluded admin hours). However, various factors influence the custom software development time, such as the complexity of the website, features that you are planning to integrate. Contact us to know the exact timeline to build an online store for you.
Do you assist in launching the eCommerce solutions?
Yes. We, being one of the best eCommerce app development companies, our responsibilities include launching your eCommerce solution too.
Who will own the source code rights of the project?
Once we launch your eCommerce solution, we will give you the source code of your project. In fact, we don't have any right to the source code once the project is complete to ensure that we only have access to it.